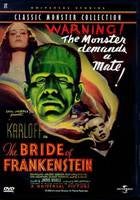 Famous names: Boris Karloff as the monster, James Whale produces/directs.
Crunchy goodness: 5
Copycats/Spinoffs/Sequels: Gods and Monsters, an amazing flick directed by Bill Condon, tells the story of James Whale during the period when he made Bride of Frankenstein. Unlike his closety Hollywood pals, Whale refused to hide his homosexuality and eventually became a pariah despite a string of hit horror movies in the 1930s.
The shit: Any scene including Elsa Lanchester as the Bride rocks. Period.
Sights you'll never unsee: Boris Karloff's monster learning to drink soup.