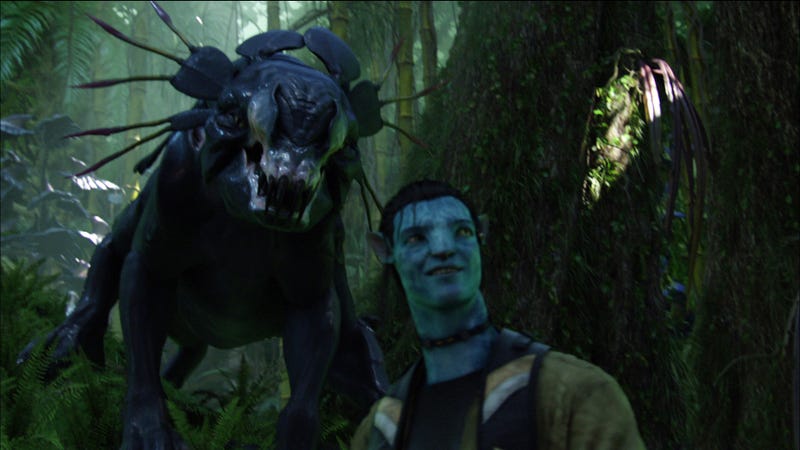 Pop culture is a never-ending source of wonder and amazement. We're seeing some really top-notch, innovative writing across every medium right now. But there's also a lot of tired, warmed-over stuff, that feels copy-pasted from script to script. Here are 20 screenwriting moves we'd be happy never to see again.
1) "He's right behind me, isn't he?"
The whole thing where someone is talking smack about someone, not realizing that person is right behind them. The movie Jack The Giant Slayer used this joke two or three times, ostensibly as a call-back to earlier uses of it, which just made it feel more tired. See also: someone is talking smack to an adversary or monster, who runs away — because a bigger monster is actually right behind the smack-talker (e.g. Jake Sully in Avatar.) Also worth mentioning: "I'm standing right here" and "I can hear you," from someone who's right there when people are trash-talking them.
2) Exciting but confusing action scene, followed by "X Hours Earlier..."
I swear to god, every other episode of a CW show featured this recently. Also, one of the latest Falling Skies episodes had this. The whole "in medias res" thing is a time-honored tradition — but if your story is most interesting when you start in the middle, maybe just don't jump back to the boring setup? Also, starting the episode with exciting parkour/motorcycle action before jumping back 24 hours telegraphs that your episode has a boring first half and you wanted to showcase the only exciting bit.
3) "He wanted to get caught!"
The next time a villain gets caught on purpose, I want to see the good guys put him/her in a medically induced coma. Or just shoot them. Whenever a villain gets caught too easily and then is put into a see-thru plastic prison, it doesn't end well. Except for the villain — it ends great for the villain.
4) Fractured mirror/pictureframe indicates broken identity
Bonus points if somone breaks the mirror or picture in a fit of despair, and then stares at it as music swells. Also, bonus points if we can magically see the person's complete face reflected in several shards at once, or a fractured, ugly image of the person's face in all the shards. That way we know this person is having an identity crisis.
5) "It was just a cat"
Or any kind of jump scare that turns out to be something harmless — the wind, your friend coming back from getting a drink. In general, jump scares are getting old, and the "just a cat" thing was a cliché in the 1980s. See also: ominous POV sneaking up on the main character turns out to be friendly, or masked figure turns out to be someone who went missing earlier.
6) At the end, someone picks up a pen, and writes the narration we heard at the start.
Really, any kind of opening voiceover narration indicates a certain lack of confidence in the story, or in the audience's perspicacity. But especially if there's any kind of reveal towards the end — the narrator is actually Sleeping Beauty! The narrator is that weird old guy, who's actually writing this down! — it feels cheap and silly.