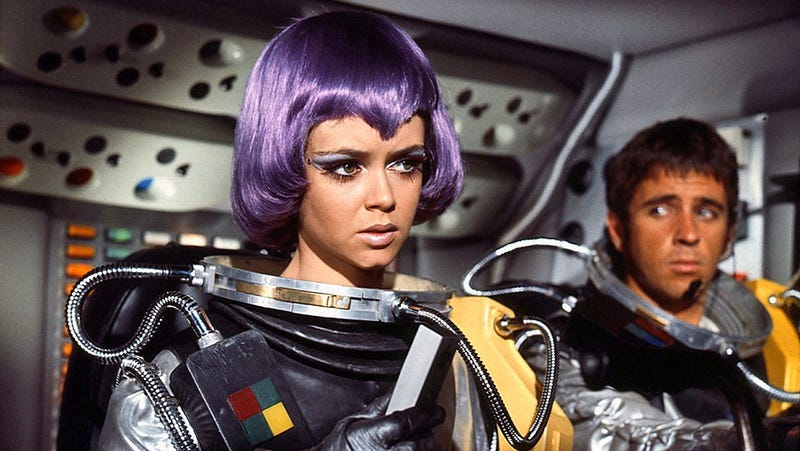 It's been months since we last saw Doctor Who, and there's still a month to go before the anniversary special. But if you're having withdrawal symptoms, fear not — British television has spawned tons of other great science fiction and fantasy programming. Here are 20 lesser-known British TV shows that Doctor Who fans might like.
Note: For the purposes of this list, we're sticking to slightly lesser-known stuff. Which means you won't find The Prisoner, Blake's 7 or Red Dwarf on the list below. We assume you've already checked those out. If you haven't, consider those recommended as well.
1) The Omega Factor

Doctor Who was famous, in the 1970s, for arousing the ire of family-morality crusader Mary Whitehouse with its scary material and graphic violence. But The Omega Factor is one show that Whitehouse actually succeeded in getting cancelled. It's the story of a man investigating paranormal phenomena for the mysterious agency Department 7 — and then he learns he has psychic powers himself. Doctor Who's Louise Jameson co-stars. This show gave us the heebie-jeebies when we were kids. (Producer George Gallaccio was offered the producer job on Doctor Who before John Nathan-Turner, and might have made the show a lot more dark and twisted.)
2) The Fades
This show starts out as a weird tale of a boy who can see paranormal stuff — and quickly lurches into darker, more intense territory. The "Fades" are basically ghosts, who have been left behind in our world because they missed their chance to move on, and now some of them want to become solid and real again. Which would be very, very bad for the rest of us. Stars Iain De Caestecker, who's now on Agents of SHIELD.