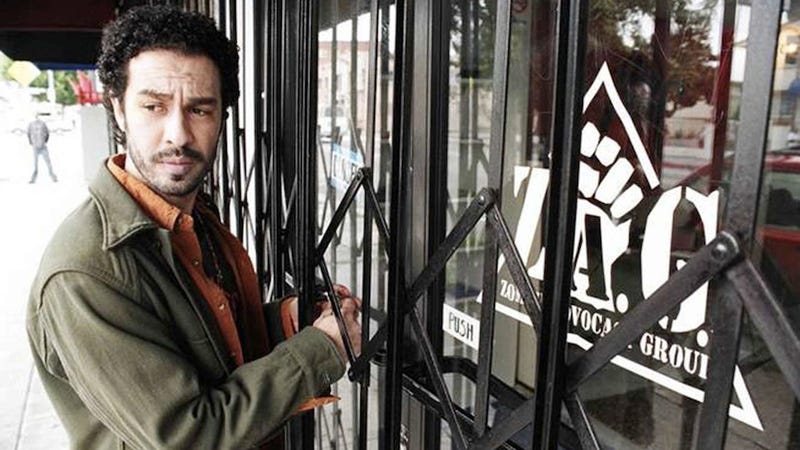 Yes, we're still disappointed that we didn't get a World War Z mockumentary. After all, science fiction and horror lend themselves quite well to the faux-documentary format. So we're kicking back with 15 speculative mockumentaries, from a silly Star Wars lark to an earnest look at Britain on the eve of nuclear war.
It seems that false documents are never far from science fiction; we only have to look at Orson Welles' radio adaptation of War of the Worlds or the entire found footage horror genre. Characters from Battlestar Galactica and Supernatural have gone head-to-head with documentary and reality TV crews, and the entire premise of ABC's short-lived TV series The River surrounded documentary filmmakers. These films and TV episodes do some clever and sometimes playful things with the documentary, news show, and reality TV show formats.
Quick note: Where available, I've embedded the relevant media, or at least a short clip or trailer. I apologize in advance for the Hulu embeds.
The War Game
What makes this 1965 documentary dramatization particularly unsettling is that it isn't presented so much as a "What if?" scenario as a "What would we do?" scenario. The film dramatizes the events in Britain leading up to and following a nuclear attack. Even though The War Game is speculative in nature, it actually won the Academy Award for Best Documentary Feature in 1966. It was considered too disturbing for broadcast television, however. After it aired on the BBC's The Wednesday Play anthology series, the doc was pulled from the airwaves and wasn't shown on British television until 1985.
American Zombie
Zombie movies are usually venues for overt terror. There are the flesh-hungry zombie mobs and there are the potentially violent survivors, end of story. But American Zombie takes a very different, and ultimately chilling, approach to its horror. A documentary team follows four ordinary undead Americans, each experiencing varying degrees of acceptance of their condition. As Live Dead, the zombie version of Burning Man, draws near, we begin to suspect that the characters we've been getting to know for the entire movie might actually be monsters. Where many mockumentaries (especially a black comedy like this one) aim for social commentary, American Zombie uses it to slowly unravel its characters horrors.
Series 7: The Contenders
Even before the 2007-08 writers' strike left our airwaves, Series 7: The Contenders brutally skewered the genre with its battle royale game show. Contestants are allegedly selected by lottery and then filmed as they kill each other off. The last one alive wins—and goes on to the next season. Complicating Series 7 are a terminally ill player with a history with the reigning champion, and one player who seems to know a bit too much about the game. But perhaps the best part of Series 7 is Will Arnett's voice-over narration, which is so dead-on that you'd think he'd been moonlighting for some terrible cable documentary series.
Ghostwatch
There are enough documentary-style and found footage horror movies to fill up their own list: The Blair Witch Project, [REC], and Lake Mungo, just to name a few. What makes Ghostwatch so special? Well, it has a bit of a War of the Worlds reputation. On Halloween 1992, the pre-taped horror mockumentary aired, pretending to be a live broadcast. As the paranormal events unfolded, the BBC was flooded with phone calls from upset viewers, many of whom had mistaken the program for a live reality show. A few physicians even reported diagnosing children with PTSD after the broadcast, although other experts have questioned the wisdom of such a diagnosis.