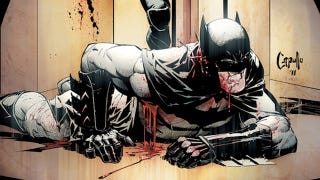 They say given enough time and resources, Batman can defeat anybody. But let's be clear — Batman doesn't always have the time to plan or the resources he needs, and thus Batman is hardly undefeated in his crime-fighting career. Here are 15 different DC characters, heroes and villains, who have handed the Dark Knight a few checks in his loss column.
1) Superman
Okay, honestly: 99% of the times Batman has defeated Superman, Superman has not been at the top of his game. Even in The Dark Knight Returns, the only reason Batman won was by faking a heart attack right after he exhausted all his tricks — another couple of minutes and Superman still would have won. Anyways, when mind-controlled by Maxwell Lord in "Sacrifice," Superman begins seeing his friends as enemies, and when he discovers Brainiac hitting on Lois, he thrashes him — only to discover he's accidentally been handing Batman his ass the whole time. Batman goes to the hospital.
2) Bane
People always think of Bane as a villain of brute strength, thanks to the Venom that augments his powers, but he outsmarted Batman as much as he broke his back. Bane's plan in Knightfall was simple: Break all the inmates out of Arkham Asylum, let Batman run himself ragged trying to recapture them all, and then, once he's exhausted, show up at Wayne Manor and fuck him up. In this first battle between the two, Bane is in total control, toying with the Dark Knight before picking him and slamming his back against his knee, breaking it, and putting Batman out of commission for months.