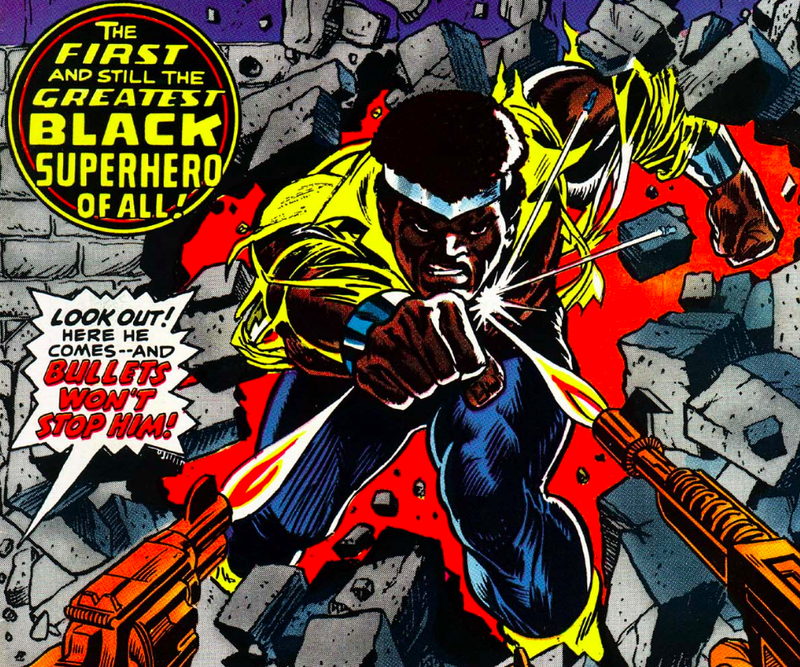 Some superheroes' personalities change over time, especially when many creators work on them over decades of publishing history. But this also creates a multiplicity of possible interpretations for these characters, too. Let's see what the most telling moments from Luke Cage's long superhero career actually say about him as a person.

Really, these are the two most important moments ever written for Luke Cage:
• "Outfit's kinda hokey but so what? All part of the superhero scene. An' this way when I use my powers, it's gonna seem natural."
• "My 'loud, angry negro' bit didn't phase him."

Respectively, those statements were written in Luke Cage, Hero for Hire #1 by the late Archie Goodwin and in Power Man and Iron Fist #122, by Jim Owsley (who later changed his name to Christopher Priest.) The word balloon and thought bubble establish a special kind of self-awareness for Cage, hinting at the performative nature of his superhero persona. The character ditched his birth name of Carl Lucas after escaping imprisonment for a crime he didn't commit, changing it to Luke Cage.
But he also adopted the code name "Power Man," and became a hero who stopped crimes for cold hard cash, beginning a career of simultaneously hiding in plain sight and selling himself. He was both gaudy and larger-than-life, fitting in line with "the superhero scene" he mentions in his first appearance.