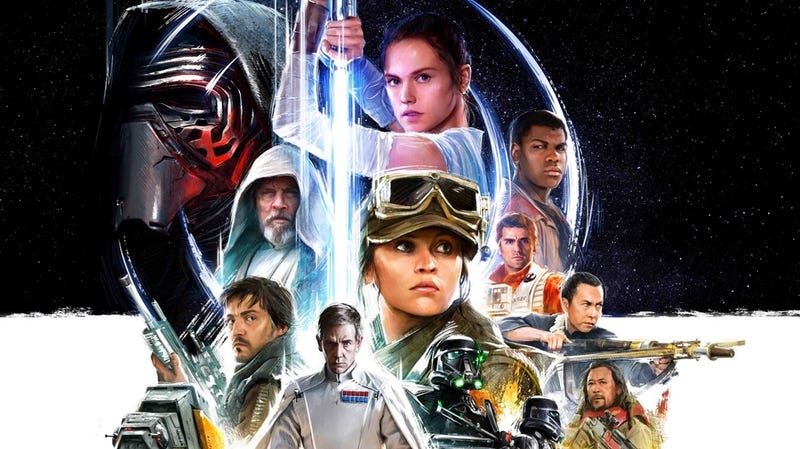 This weekend, a galaxy far, far away comes to London, England, for Star Wars Celebration Europe. It's a three-day, official Star Wars convention and we expect lots of awesome things to happen there—but most of all, we expect to learn a great deal about Episode VIII, Rogue One, the Han Solo movie, and more.
Actually, we're hoping for even more than that. So we came up with a convenient list—our Star Wars Celebration wishlist, if you will. Note: the convention is in London, but we've changed the panel times to EST. If you want local time, add five hours.
1) What's the title of Star Wars: Episode VIII?
Director Rian Johnson will be on hand at Celebration, fresh off wrapping Episode VIII. There's a good chance he'll show some kind of very, very teaser-y footage from the film (like the announcement video above) but what we really expect is the film's title. Lucasfilm announced that Episode VII was "The Force Awakens" a little over a year before opening. We're further than that from Episode VIII (it opens December 2017), but it's a simple piece of information that fans would go absolutely nuts over while not taking away from the main focus of the convention, Rogue One: A Star Wars Story.
When it could happen: Future Filmmaker Discussion Panel & Closing Ceremony, July 17, 10-11:30am
2) What exactly is Darth Vader doing in Rogue One: A Star Wars Story?
We know for a fact that Darth Vader is in Rogue One. We also know that we're getting a new trailer for Rogue One during the convention. Simply saying "A new Rogue One trailer" feels like cheating, though, so we're going to hope that the trailer explains what Vader's role in the film is. He, of course, isn't much different than he'll be in A New Hope, but to see him on the big screen again is going to be a thrill no matter what.
When it could happen: Rogue One: A Star Wars Story Panel, July 15, 16 to 17pm
3) When will we get the official introduction of Alden Ehrenreich as Han Solo?
In addition to Rian Johnson, directors Phil Lord and Chris Miller are going to be at Celebration to talk about their 2018 Star Wars Story focusing on Han Solo. Everyone in the world knows that they've already cast their Han, Alden Ehrenreich, but Lucasfilm has yet to officially announce it. We expect Ehrenreich will be revealed as the young Han, be on hand, and maybe even talk about the role. In addition, it would be awesome to get this film's title but, that's probably a long shot.
When it could happen: Future Filmmaker Discussion Panel & Closing Ceremony, July 17, 10-11:30am
4) What will be the post-Episode IX solo movie?
This is the biggest long shot on the list. Lucasfilm loves to leave people excited at the closing ceremonies, and an Episode VIII title or Han Solo casting would surely do that. But, if they're ready, wouldn't it be cool if they told us what the 2020 Star Wars Story was going to be? Is it really a Boba Fett movie written by Simon Kinberg? Maybe but, even if it is, this is more likely a reveal for D23 Expo 2017 or Star Wars Celebration 2017. A fan can dream, though.
When it could happen: Future Filmmaker Discussion Panel & Closing Ceremony, July 17, 10-11:30am
5) What will be the final Battlefront DLC?
Since its release last year, Star Wars Battlefront has been chugging along with new maps set across the galaxy, from Tatooine to Cloud City, and soon to the Death Star itself. But EA have kept its lips sealed about the final piece of DLC for the game due later this year—and after the company caused disappointment by revealing it wouldn't feature elements and settings from The Force Awakens, fans turned to their next best hope: Rogue One content, as the new movie is set in the original trilogy timeline Battlefront adheres to.
Could gamers be stomping around locations from the first Star Wars anthology later this year? We're not sure yet, but we'd love to.
When it could happen: Meet the Creators: The Minds Behind EA's Star Wars Games Panel, July 16th, 2-3pm
6) What's the logline for the final book in the Aftermath trilogy?
The second entry in Chuck Wendig's Aftermath trilogy has only just come out this week, but it set the stage for an intriguing finale that can only give us even more hints about the state of the galaxy after the events of Return of the Jedi. How did the New Republic come about? When did Luke start training new Jedi? What's up with the Imperial Remnant, skulking about on the edge of the galaxy? The final book in the series could deliver some huge revelations for Disney's new canon, and the logline could give us the first clues.
When it could happen: Star Wars Publishing Panel, July 16th, 7-8am
7) What happened to Ashoka after the Clone Wars?
Ahsoka might have lived throughout the rise of the Empire, but we still don't know a lot about her life between the end of her time on Clone Wars to her appearance in Star Wars Rebels. A lot must have happened for Ahsoka to become the woman she is by the time she fought Vader in Rebels' epic second season finale, and we're dying to know more about her journey.
When it could happen: Ahsoka's Untold Tales Panel, July 15th, 6-7am
8) What happened to Ashoka after last season's finale of Rebels?
That's not it for Ahsoka info. We might learn how she got to the time of Star Wars Rebels, but we desperately need to know if she survived her time on the show, following her nebulous exit in Rebels' season two finale. Did she really survive her encounter with Vader. If so, has it changed her? Can we expect to see her again, or is she on her own path once more? We're gonna need some answers.
When it could happen: Star Wars Rebels Season 3 Panel, July 16th, 11am-1pm
9) What comic will take Darth Vader's place?
Star Wars comics at Marvel are about to enter a strange place—while the main monthly series will trundle on, and series like Poe Dameron set up stories beyond the original trilogy, arguably the greatest part of Marvel's Star Wars output, Darth Vader, is coming to an end.