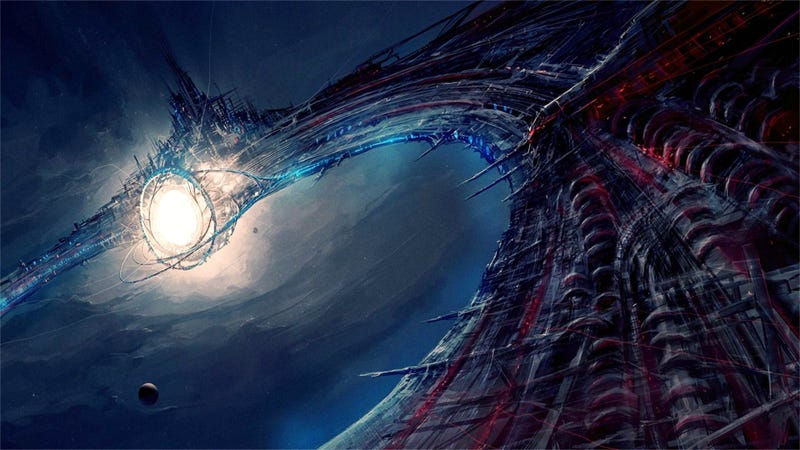 We humans are doing a bang-up job of messing up our home planet. But who's to say we can't go on to screw things up elsewhere? Here, not listed in any particular order, are 12 unintentional ways we could do some serious damage to our Solar System, too.
Wild speculation ahead...
Above: We could cause some serious damage with a Shkadov Thruster (see #7). Credit: L. Blaszkiewicz/CC.
1) A Particle Accelerator Disaster
By accidentally unleashing exotic forms of matter from particle accelerators, we run the risk of annihilating the entire solar system.
Prior to the construction of CERN's Large Hadron Collider, some scientists worried that collisions created by the highly energetic accelerator might spawn such nasties like vacuum bubbles, magnetic monopoles, microscopic black holes, or strangelets (a.k.a. "strange matter" — a hypothetical form of matter similar to conventional nuclei, but also containing many of the heavier strange quarks). These concerns were condemned by the scientific community as "rubbish" and nothing more than rumors spread by "unqualified people seeking sensation or publicity." Moreover, a 2011 report published by the LHC Safety Assessment Group concluded that the collisions presented no danger.
Anders Sandberg, a research fellow who works out of Oxford University's Future of Humanity Institute, a part of the Oxford Martin School, agrees that a particle accelerator disaster is unlikely, but warns that if strangelets were to be somehow unleashed, "it would be bad." As he explained to io9: