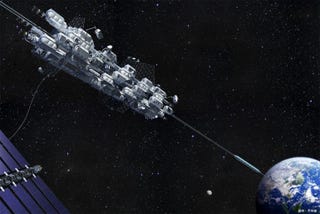 The pace of technological change is governed by many factors — including public demand. Which is why we need to be demanding more. Here are 12 transformative technologies whose development should be expedited right now.
Top image: Conceptual space elevator (Credit: Obayashi Corporation)
To make this list meaningful, I only included those items that are within reasonable technological reach. Sure, it would be nice to have molecular assemblers, warp drives, and the recipe for safe artificial intelligence, but it'll be decades before we can reasonably embark upon such projects. What's more, there are more pressing things to address in the near term. To that end, here's what we should be working on:
1. A Viable Artificial Biosphere
Image: Biosphere 2

Before we can venture out into space and build long-term space habitats, we have to figure out a whole bunch of stuff, including how to make viable and self-sustaining artificial biospheres. To date, our efforts to construct a biosphere — from the pioneering efforts of the Soviets and their BIOS-3 experiments to the Biosphere 2 projects of the 1990s — have largely been met with failure. It's now 2014 and we still haven't got a clue as to how we can build an artificial, materially closed ecological system for human habitation — a disturbing realization given the sorry state of our environment and our future plans in space. The time has come for us to reboot these crucial projects.