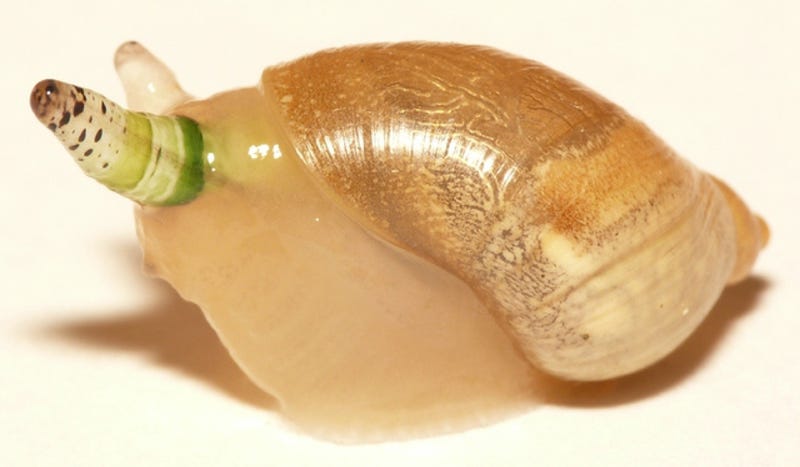 Many parasites are satisfied with just living off of their hosts, while others decide their hosts must die. But there are also some parasites who can change their hosts' behavior or physiology in ways fit only for science fiction. Here are 12 parasites who manipulate their hosts in incredible ways.
Top image by Dick Belgers via Wikimedia Commons
1. Hymenoepimecis "Build Me a Web!" argyraphaga
Hymenoepimecis argyraphaga is a Costa Rican parasitic wasp that terrorizes the spider Plesiometa argyra. When it's time to procreate, an adult female wasp will seek out a spider, paralyze it and then lay an egg on its abdomen. After hatching, the larva wasp will feed on its host, while the spider goes about its business like nothing's wrong.
Then things get interesting. After a couple weeks of bloodsucking, the larva will inject a chemical into the spider, which causes the spider to build a web like none it's ever built before. The spider sits motionless in its creation — which is far from pretty, but super durable and able to withstand pelts of rain — to await its fate. The parasite then kills the spider with poison, sucks it dry and builds a cocoon that hangs from the middle of the new web.
Image via William G. Eberhard.
2. Toxoplasma "Do That Cat!" gondii
If Tom & Jerry taught us anything, it's that cats and rodents typically don't get along. In fact, rats inherently know the smell of cat urine and run from it like their lives depend on it (because, well, it does). But if a rat is infected by the single-celled parasite Toxoplasma gondii, it loses its instinctual fear of cat pee. Worse yet, the parasite appears to make the rat think it's sexually attracted to the revolting odor. T. gondii does all of this to increase the chances of its host getting eaten by a cat, so that it can happily complete its lifecycle in its new feline friend.