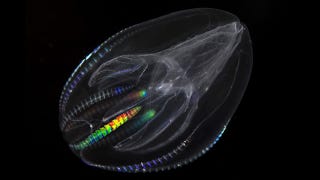 Coined by Charles Darwin, the term "living fossils" is used to describe living creatures that have stood the test of time — hardy and resilient organisms that have remained largely unchanged for millions of years. Here are some of of the most incredible examples of nature not fixing what ain't broke.
Top image: Comb Jelly. Credit: Stefan Siebert/Brown University
To be clear, "living fossils" is not a scientific term per se, and there's no consensus on a formal definition. But for the purposes of this article, we're going to define a living fossil as an ancient species that (1) hasn't gone extinct, (2) has not produced, or "radiated," many new species (i.e. low taxonomic diversity), and (3) has remained relatively unchanged over the course of millennia.
On this last point, that's not to suggest these animals haven't stopped evolving (which is a kind of myth associated with living fossils). All organisms, no matter how old, have continually adapted to changing environments, including rising and falling temperatures, changes in atmospheric composition, and other novel conditions. But for the most part, these species have settled on environmental niches in which morphological forms and behavioral modes haven't required a lot of tweaking. In many cases, they've attained a fitness peak in environments that continually reinforce a certain physicality.
There are literally dozens upon dozens of living fossils, but these are some of the most fascinating:
1. Cyanobacteria
Though not often considered a living fossil, cyanobacteria have been kicking around for practically forever and will continue to do so well into the future. In fact, like many other strains of bacteria, they're one of the most successful groups of organisms this planet has ever seen, and include some of the first life forms to evolve on Earth. Stromatolites — layered structures formed in shallow water by the trapping, binding, and cementation of microorganisms, especially cyanobacteria — provide the most ancient records of life on Earth dating back an astounding 3.5 billion years.