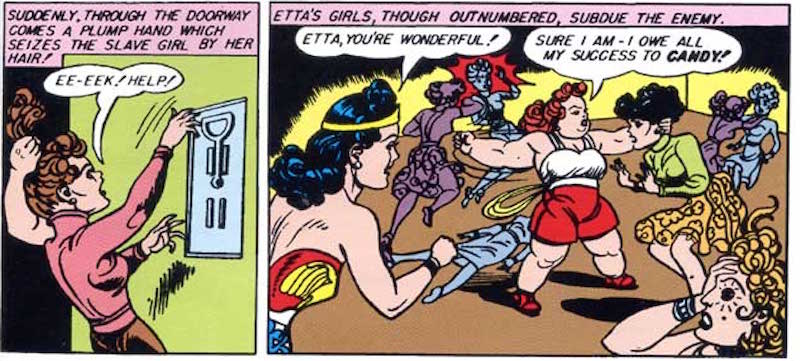 Now that Lucy Davis has joined the Wonder Woman movie as Etta Candy, we need to take a moment to acknowledge Wonder Woman's most amazing sidekick. Because the Golden Age Etta Candy is one of the most incredible female characters in comics.
Created by William Moulton Marston only an issue after Wonder Woman's debut, Etta Candy appeared like she should be the heroine's comic relief. She was a goofy cartoon character who loved candy (carrying it everywhere), and she shouted strange catchphrases like "Woo woo!" and "For the love of chocolate!" But if you thought for a second that Etta was merely a joke character, she would have quickly corrected you, probably by punching you in the face.
Because the original Etta Candy didn't give a good goddamn what anyone thought about her, including you. She loved herself, curves and all, and she didn't need anyone's validation for… well, anything. Etta Candy was certainly silly—her family's names are Hard, Sugar and Mint—but that didn't stop her from fighting alongside Wonder Woman, often fighting Nazis on her own, and all without any superpowers. Etta Candy was a Normal Woman. And not only was she as badass as her superpowered best friend, in many ways she was even more wonderful.