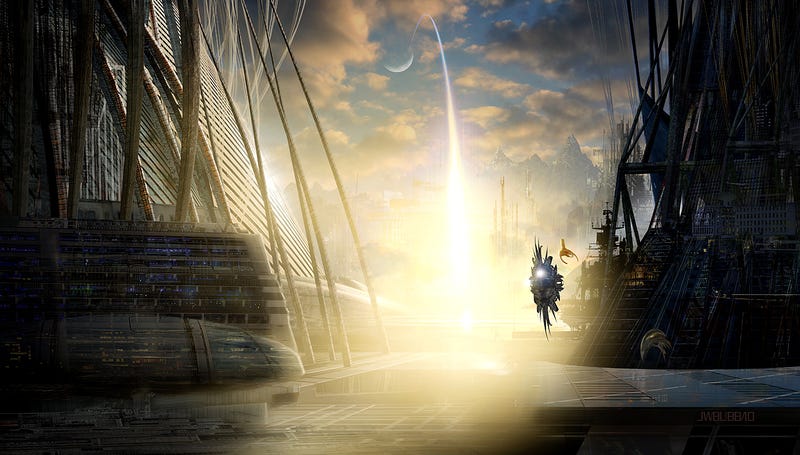 Being a science fiction creator is the most amazing adventure — you get to invent whole new worlds, brand new futures, and fantastic technologies, and you get to tell the most incredible stories about them. But it's also a tough and heartbreaking career path, whether you're in books, comics, movies or television. Here are 10 things that every brand new science fiction creator ought to know at the start.
Top image: guitfiddle on Deviant Art.
1) You're still just telling personal stories
This is kind of a big one — no matter who you are or what kind of work you're doing, you're still telling a story that's personally meaningful to you. Because science fiction is so idea-focused and so often driven by technologies or world-changing discoveries, it's easy to lose sight of that. But not finding the personal story inside your huge alien-invasion narrative is the easiest way to fail. The only way to stand out, and the only way to tell stories that are going to move others, is to figure out what you're personally connecting to in your work, no matter how clever or widescreen your premise.
2) The things everybody remembers about their favorite stories are never why those stories work
We see this all the time nowadays — once a movie or book becomes a classic, people fixate on that one cool moment or that one clever line of dialogue. (Or sometimes, they fixate on something totally random, that just became a meme for some reason.) But no matter what, that one cool moment is not why people love that story — they love it for everything that sets up the cool moment, and everything else that makes it a great story. And this is why nostalgia is so deadly — because nostalgia tends to focus on the tip of the iceberg rather than the huge frozen juggernaut beneath. So if you spend a lot of time trying to recreate the coolest moment from your favorite TV episode, you'll miss the stuff that mostly goes unnoticed, which made people care in the first place. Nostalgia always cheats, and the only answer is to try and create your own thing.
Image via JadrienC/Deviant Art.
3) Science fiction is always about the time when it was created
That means that no matter how clever your extrapolation about the world of 100 years from now is, or no matter how brilliant your tribute to 1950s B-movies is, you're still commenting on the world of today. And your perceptions of other times and other places will always be colored by the time and place you're writing in. (This is especially important to remember for white Americans writing about non-U.S. cultures, past present or future.) Tons of studies have shown that humans have a hard time anticipating futures that are radically different from what we've already experienced. This means you need to be on the lookout for unwarranted assumptions in your worldbuilding — but also embrace the fact that you're really commenting on the here and now, and be somewhat okay with that.