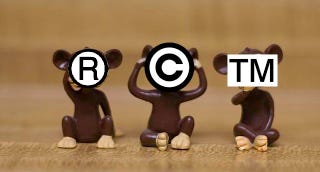 How well do you understand copyright and trademark law? When you travel about the Internet or make art, do you know what you are and aren't allowed to do, or do you have intellectual property myths stuck in your brain. We take a few claims we've seen time and again, and compare them to the law.
A couple of notes before we get started: 1) You shouldn't take any of this as legal advice. In fact, you shouldn't be taking your legal advice from posts on the Internet. 2) The emphasis here is on US law. 3) It's important to remember the difference between laws and etiquette/conventions. Sometimes they overlap, but sometimes there are differences. 4) Obviously "everyone" is a bit of hyperbole, but we've seen these claims made repeatedly around the Internet, including in our own comments section.
If you're interested in getting more in-depth on copyright law specifically, then I highly recommend Examples & Explanations: Copyright. It's aimed at law students, but it's a clear and very readable introduction to US copyright law.
1. The Claim: "You have to enforce your copyright against infringers."
The Law: This is one of those places where people confuse copyright and trademark. The truth is, copyright holders may enforce their copyright claims at their discretion. Failing to enforce your copyright claim does nothing to weaken your copyright (although if someone else claims to be the owner of your copyright, you may want to clear that up).
This is why copyright holders may (and often do) turn a blind eye to fan works, such as fan fiction and fan art. A copyright can't be diluted the way that a trademark can, and no matter how many unauthorized Harry Potter stories are out on the Internet, that does nothing to hurt J.K. Rowling's copyright regarding the books or her characters. However, this also means that if there's a fan work that the copyright holder doesn't like for any reason, they can choose to enforce their copyright claim against that particular fan work. Some people grumble that selective enforcement of copyright claims is censorship, but it's completely within the copyright owner's rights to do that.
2. The Claim: "That big company is a bully for enforcing their trademark against the little guys."
The Law: Unlike copyright holders, trademark holders must enforce their trademark or risk losing their trademark. A trademark, after all, is designed to distinguish the source of a product or service. If a bunch of people are using the same symbol to market a the same product or service, that defeats the entire purpose of a trademark. So it doesn't matter who is infringing upon a person/corporation/other legal entity's trademark — it could be a multibillion dollar corporation or a nine-year-old child — the trademark older absolutely must enforce that trademark.
That said, you don't have to be a jerk about enforcing your trademark. You can choose to license your trademark for a small fee, or you could just be generally helpful and polite to the person who infringed on your trademark. Consider Jack Daniels, which a couple of years ago sent the nicest cease-and-desist letter ever.
3. The Claim: "Selling fan art is always illegal."
The Law: Actually, it's a bit complicated. On the one hand, someone who owns the copyright to a story also owns the copyright to all of the characters in that story. And the nature of use (commercial vs. non-profit) is part of one of the four factors we look at in determining whether something is a fair use of an existing copyright. But it's not the only one. 17 USC § 107 lays out four factors for determining whether a potentially infringing work is fair use: