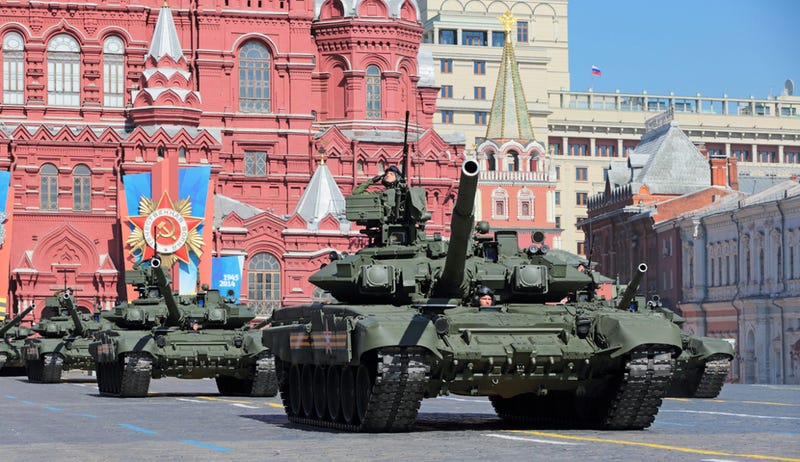 As it stands, there are well over 150 territorial disputes around the globe, some more urgent than others. Here are 10 you need to know about — and that could redefine the world map.
Top photo: Russian T-90 tanks on parade in Red Square on May 9, 2014 in celebration of WWII Victory Day. (ID1974/Shutterstock)
Items are not listed in any particular order.
1. Crimea, Luhansk, and Donetsk
The map of Europe has been surprisingly fluid since the end of the Second World War and then again after the collapse of the Soviet Union. Last year's Crimean crisis resulted in the most significant redrawing of borders since the early 1990s.
In early 2014, Russian-backed forces seized control of Crimea, a Ukrainian peninsula on the northern coast of the Black Sea. Since then, cartographers have agonized over whether or not to recognize it as a part of Russia. But seeing as Putin's federation has complete control over the region, and that many of its inhabitants support the annexation, it'll eventually have to be recognized as a part of Russia.
(BBC)
Crimea became a part of Russia back in 1783 when it was annexed during the reign of Catherine the Great. It was transferred to Ukraine in 1954 under Soviet leader Nikita Kruschev. Last year, Russia re-claimed the peninsula after Ukraine made it known that it wants to strengthen economic ties with the European Union. Some observers contend that Russia simply wants unhindered access to Sevastopol, which hosts a major naval base and has served as home to the Black Sea Fleet since Soviet times. Russia claims that it's merely protecting the largely Russian-speaking majority from Ukrainian influence.
(NBC)
Meanwhile, along the Russia-Ukraine border, the Luhansk and Donetsk regions are marred in conflict as separatists try to take control. As of December, Russia has said that it doesn't want to absorb these "states" into Russia itself, preferring instead that they become autonomous regions within Ukraine.
2. Transnistria
Some people are now wondering if the Crimean Crisis could cause the thawing of a "frozen" conflict in a small region west of Ukraine.
Transnistria, or what its inhabitants call the Pridnestrovian Moldavian Republic, is a breakaway state is located on a strip of land between the Dniester River and the eastern Moldovan border with Ukraine. Moldova is situated between between Ukraine and Romania.
(RRFSU)
Following the collapse and dissolution of the USSR, and in an effort to resist inclusion with Moldova, Transnistria declared itself an independent state, though it's not recognized by any United Nations member state. Its allegiance is towards Moscow, and despite this being a "frozen conflict," there are now concerns that the Crimea conflict could embolden the Russian Federation into claiming this strip of land for itself.
Related: What Europe Will Look Like In 2035 If Russian Tabloids Have Their Way