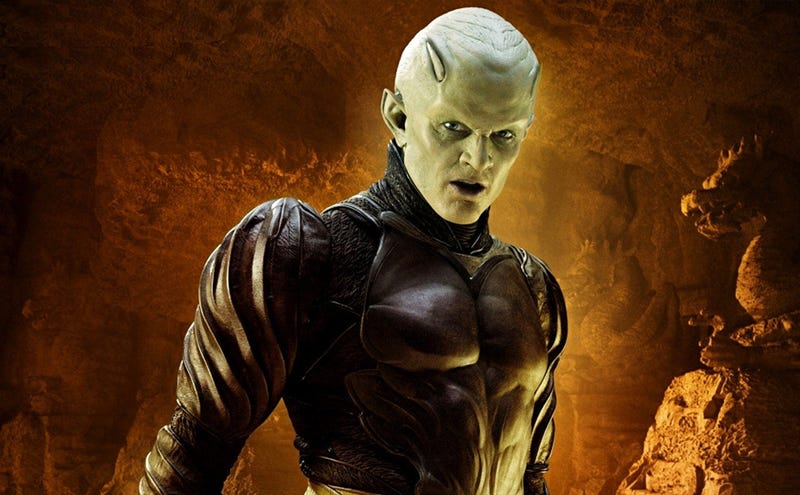 Sometimes you can learn more from a bad movie than a good one. And certain atrocious films have become cultural touchstones, influencing generations of creators and spawning endless memes. So here are 10 really awful science fiction and fantasy movies that everybody should watch at least once.
1) Dragonball Evolution
We recently rewatched this film, at the io9 fortress of media omnivorousness, and it's actually much worse than we remembered. It's so terrible, that it ought to be taught in film schools all over the world. Not just as an example of how not to translate a beloved artifact from another culture into a Western context, or turning animation into live-action, but also just as an example of squandered potential. Chow Yun-Fat brings so much good nature and zaniness to this film, and the rest of the cast tries their best. But what absolutely kills this movie dead is the lack of a strong villain — James Marsters, encased in latex, can barely move or speak, and he's only on screen for about five minutes. And the fact that it simultaneously takes a dump on the anime's mythos and also lectures you about it, simultaneously. When Goku starts turning into Oozaru at the end, you'll have no clue what that's supposed to mean, but you'll be very annoyed.
2) The Lovely Bones
Continuing the theme of terrible adaptations — in our imaginary film-school class, Peter Jackson's The Lovely Bones would be shown back-to-back with Guillermo del Toro's Pan's Labyrinth. Because they're both movies about young girls confronting unimaginable horrors, and seeing through the lens of fantasy. (Except of course, the girl in The Lovely Bones is dead, and the fantasy is her version of the afterlife.) And The Lovely Bones fails for all the reasons that Pan's Labyrinth succeeds — the fantasy stuff has no real weight to it, in Jackson's version. It doesn't bring its own terrible darkness, or provide a thematic counterweight, the way it does for del Toro. And Jackson is a great filmmaker, at the height of his powers, using exquisite CG animation to depict a candy-coated afterlife that's way less important in the book — and you wind up with the sense that Jackson has been seduced by beauty into abandoning coherent storytelling. Or maybe, that he's convinced himself that enough giant butterflies will make some grand statement about innocence surviving after an unthinkable crime. The Lovely Bones is a great cautionary statement for anyone who's gotten carried away — not just with the promise of technology, but also with some grand vision that has no weight to it.