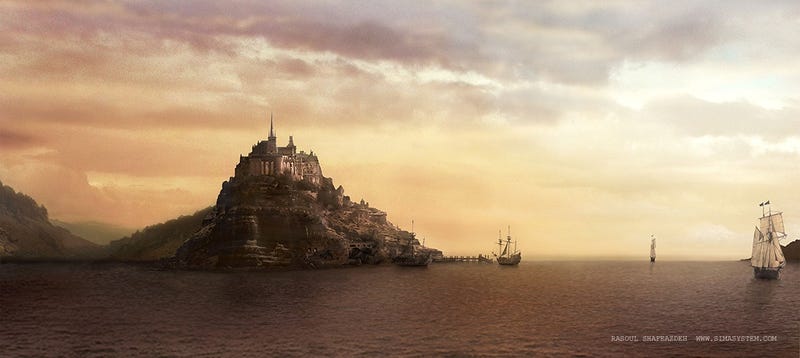 We live in a time of riches, as far as fantasy book series go — tons of sprawling sagas are being told, by authors with a huge diversity of styles. But if you want a life-changing visit to a fantasy world, you can't do any better than Ursula K. Le Guin's Earthsea. Here are ten reasons Le Guin's fantasy series still rules.
Top image: RASOUL SHAFEAZADEH
Le Guin's Earthsea books consist of a trilogy, published between 1968 and 1972, and then two other novels, from 1990 and 2001, plus a short story collection. You can read just the original trilogy, and get a rich, bracing saga — but if you choose to read the two later books, you'll find Le Guin turning a lot of the themes of the original trilogy on their heads. So here's why these books, even in the midst of so much fantasy bounty nowadays, are still essential and amazing:
1) They offer three very different takes on the heroic journey
We live in a time when the "Hero's Journey" rules popular culture, in the wake of Star Wars. But years before George Lucas decided to distill Joseph Campbell into a simple space Western, Le Guin had already come up with two versions of the "rise to heroism" story, which turn a lot of your expectations on their heads. First the wizard Ged becomes a hero mainly by facing his own darkness and fixing his own awful mistakes. And then the young priestess Tenar comes into her own, reclaiming her identity with Ged's help, and they wind up rescuing each other. Later, in Tehanu, Le Guin gives us still a third heroic origin story, of a girl who turns out to have a unique connection to dragons.
2) They're about life in an Archipelago
and that's something that could be very relevant to a lot of us in the future — many futurists believe that with rising sea levels, coastal cities will become archipelagos. So the fact that the Earthsea books take place in an archipelago, made up of hundreds of islands with cities and settlements on them, is helpful to those of us coast-dwellers who want to imagine our own futures.