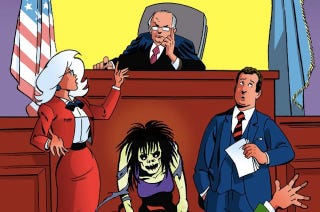 When do you need to tell a prospective buyer your house is haunted? Where do you need a license to practice necromancy or to be reincarnated? And where can you file a lawsuit against a supernatural being? These real-life laws will tell you all that and more.
Top image from the hilarious comic Supernatural Law by Batton Lash.
1. In some cases, US home sellers must tell a buyer if a property is haunted.
There are all sorts of disclosures that home sellers must make to potential buyers, but do you really need a ghost disclosure? Some states require a seller to disclose if a property is "psychologically impacted" in some way, such as from a recent murder on the premises.
If your house is famously said to be haunted, however, you may want to make sure the buyer is aware of the situation. In the 1991 case Stambovsky v. Ackley, Helen Ackley had sold her Nyack, New York, property after she and other members of her family had widely reported that the house was haunted by poltergeists. Jeffrey Stambovsky, unaware of the stories surround the house, purchased the home and later sued, requesting rescission of the contract of sale. The New York Supreme Court justices had a field day writing that opinion, stating that the "plaintiff hasn't a ghost of a chance" and "I am moved by the spirit of equity." While the court didn't state that poltergeists actually exist, it did say that, based on wide reports of the house's haunted status, that its value was affected and therefore the house was haunted as a matter of law.
2. But if you base your horror movie on a "true story" or famously haunted house, you can avoid all sorts of intellectual property issues.
Famous mockbuster movie house The Asylum is best known for movies exploit the popularity of other films: Paranormal Entity for Paranormal Activity, Almighty Thor for Thor, Transmorphers for Transformers, and so on. Inspired by the film The Haunting in Connecticut, Asylum made their own Haunting of Winchester House, based on the stories surrounding the Winchester Mystery House in San Jose, California. The corporation that owns the Winchester Mystery House (which had already contracted a studio to make a film based on the property) sued for trademark violation. The California Court of Appeal ruled that, since the name and images of the Winchester House refer not just to the tourist attraction but to the historical and legendary stories surrounding the property, that Asylum had every right to make its own Winchester House film.
3. In San Francisco, you need a license to practice necromancy.
There are laws regulating the practice of magical arts around the world, from the tragic laws that see people killed for supposedly practicing witchcraft, to Canada's laws regulating the "crafty sciences." But Kevin Underhill of the legal blog Lowering the Bar and author of the wonderfully weird law book The Emergency Sasquatch Ordinance points to a particularly oddball rule in San Francisco. The city of San Francisco offers fortune telling permits (which includes permission to pretend to practice fortune telling), but then goes on to offer a bizarrely inclusive definition of fortune telling that includes necromancy, or the manipulation of the dead. I imagine that certain types of necromantic practice would run afoul of other city, state, and federal laws, however—not to mention laws of nature.
4. In New Orleans, a person may not set forth his or her power to convert bitterest enemies into staunchest friends.
It's no surprise that New Orleans, a city long associated with the practice of Voodoo and the supernatural, has very particular laws governing the use of magic as a business, such as this one:
Sec. 54-312. Fortunetelling. It shall be unlawful for any person to advertise for or engage in, for a monied consideration, the business of (chronology, phrenology, astrology, palmistry), telling or pretending to tell fortunes, either with cards, hands, water, letters or other devices or methods, or to hold out inducements, either through the press or otherwise, or to set forth his power to settle lovers' quarrels, to bring together the separated, to locate buried or hidden treasures, jewels, wills, bonds or other valuables, to remove evil influences, to give luck, to effect marriages, to heal sickness, to reveal secrets, to foretell the results of lawsuits, business transactions, investments of whatsoever nature, wills, deeds and/or mortgages, to locate lost or absent friends or relatives, to reveal, remove and avoid domestic troubles or to bring together the bitterest enemies converting them into staunchest friends. But nothing herein contained shall apply to any branch of medical science, or to any religious worship.
However, hiring a priestess to help you win a football game is apparently a-okay.