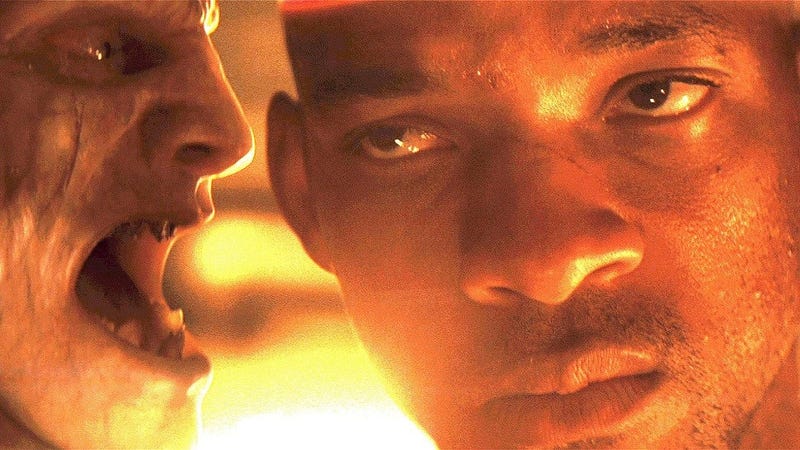 Movie-making is a bizarre and chaotic process. Sometimes, the flurry of rewrites and added footage can result in an unlikely masterpiece. But sometimes, test audiences randomly dislike a film, and this leads to ill-advised reshoots. Here are 10 science fiction and fantasy movies that had new footage added, which made them worse.
1) I Am Legend
This movie is one of the poster children of mistaken reshoots — although the final result was financially successful, at least. The film's original ending was somewhat closer to the book ending, and a bit more in keeping with the idea that the "vampires" in the film viewed Robert Neville as a monster. This ending, however, did not test well with audiences in early screenings — so they went back to the drawing board and came up with an ending that undermines the entire message of the film but includes a big explosion. See the original ending above.
2) Deadly Friend
Wes Craven originally planned this film as a PG-rated psychological thriller, which explored complex ideas about artificial intelligence and human-machine interfaces. One working title for the film was even Artificial Intelligence. Alas, test audiences were expecting an R-rated gorefest — basically a rehash of Nightmare on Elm Street. So they had to go back and film some new sequences featuring tons of splatter — including a scene where a woman's head explodes after she's hit in the head with a basketball. In the end, both Craven and screenwriter Bruce Joel Rubin disowned the film.
3) Little Shop of Horrors
The original ending was much darker — Seymour feeds Audrey to Audrey II, which then eats Seymour and heads off for world domination, thanks to a craze for Audrey II buds. Test audiences didn't care for this "black comedy" ending — but a reshot ending, in which Seymour electrocutes Audrey II and marries Audrey, then moves to the suburbs, is a bit too saccharine and sappy.
4) The Invasion
This remake of Invasion of the Body Snatchers was probably never going to be a great film — but it originally ended with a more open-ended conclusion. For one thing, it didn't make clear whether the boy who carries the cure for the alien infestation has survived or not. It was meant to be a darker, bleaker ending, in keeping with the notion of a more talky, artsy movie. But test audiences hated this ending — so the Wachowskis were brought in to write a more action-oriented conclusion, which was filmed by V for Vendetta's James McTeigue.
5) Superman II
This is one of the most famous cases where a director was replaced during filming. Richard Donner had shot 80 percent of the film — but after he was replaced by Richard Lester, the new director had to go back and reshoot almost the entire film, so he wouldn't have to share director credit. The Lester version of the film has its charms, but Donner's slightly less campy version (finally released via the Donner Cut several years ago) seems to be generally regarded as superior.