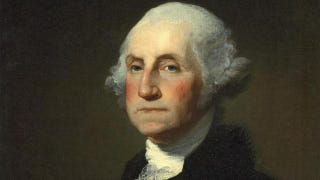 In the past, medicine was not so much a science as a cross between amateur alchemy and compensated sadism. And the worst quackery wasn't just inflicted on the poor and obscure. There's a long list of famous people who were most likely killed by bad medicine. Here are ten you may not know.
10. Louisa May Alcott
The author of Little Women, as well as lot of penny dreadful novels and a scandalously ill-concealed memoir posing as fiction, was one of the more depressing victims of medicine. Raised in a community of passionate abolitionists, she decided to volunteer for nursing when the Civil War broke out. Long nights and constant exposure to infection got her sick within a few weeks. Whatever the sickness was, the cure was worse.
They dosed her with large amounts of what was then known as calomel and what is now known as mercury chloride. The mercury probably lead to her early death at the age of fifty-six. It definitely caused her to lose all her strength, and most of her hair. (Many readers will remember Jo, one of the main characters of Little Women, selling her hair for money when her father got sick, as well as Beth's long, lingering illness. Clearly, these events spring from Alcott's real life. This medical mistake might have lead to one of the most beloved American children's books as well as the death of the book's author.)
9. Eben Byers
Eben Byers isn't the most famous person on this list, but at the time of his death in 1932 he was Tony Stark crossed with Tiger Woods. He was Iron Man, in that he was the chairman of the Girard Iron Company - which his father had created. He was also a national golf champion. His face was on the cover of magazines and all the ladies were after him. When he injured his arm in a football game, he wanted something that would revitalize him. His doctor recommended Radithor, a tonic with a newly discovered element, radium. Radium emitted rays, which, like the rays of the sun, were sure to impart health and life. Actually, it turned out they emitted radioactivity. After drinking multiple bottles a day, Byers' wasted down to nothing, and his jaw literally splintered off. Some time after this, radium stopped being marketed as a health tonic.
8. Sylvia Plath
Sylvia Plath's death, many argue, was due to bad medicine. Few, however, agree on what kind of bad medicine it was. Plath gained great fame only after her death - although she was a respected poet during her life - due to the posthumously published book, Ariel. In biographies, dramas, and screenplays, her death is depicted as the pre-ordained closing act of the life of a tortured artist. In medicine, it's still considered avoidable. Just before her death, Plath went to her general practitioner complaining of extreme depression and suicidal impulses. The doctor prescribed her an antidepressant. But was she depressed? Some doctors feel she was bi-polar, while others believe she was sliding towards a psychotic episode. Some think the antidepressant hampered her ability to think, which would have been devastating for a woman who had built her life around her creative work.
More disturbingly, Plath had apparently taken a similar antidepressant before, and had found that this specific type of drug had greatly worsened her depression. The medicine that the doctor gave her just prior to her suicide was given a proprietary name - which she didn't recognize. She may have been taking a pill that worsened her depression. (The pill is not entirely to blame, though. The doctor wanted to admit her immediately to an inpatient facility. There were none available on short notice, so he arranged for a home care nurse to visit her - but the visit happened too late. "Bad medicine," in this case could be the kind we still fight - too many people in need and too few resources.)
7. President James A Garfield
Not all bad medicine comes in the form of pills. Some of it is a technical breakdown. On July 2, 1881, a disappointed politician named Charles Guiteau shot President Garfield, hitting him twice. One shot only grazed the President's arm, but the other penetrated his abdomen. He was moved to his bed, and doctors tried to find the second bullet so they could remove it safely. They used a new device, a metal detector, invented by Alexander Graham Bell. Unfortunately, this device hardly had a chance to find a bullet. The presidential bed included metal springs, which threw off the detector. The bullet was found only after the President died.
6. Gouverneur Morris
If you say you are an American, and not, for example, a Californian or a Oklahoman, you owe a little something to Gouverneur Morris. In addition to writing the famous "We the People" preamble to the Constitution, he promoted the idea of Americans being citizens of a nation rather than just citizens of a group of states. Unfortunately, he was not as handy with a whale bone as he was with a pen. And when you're sticking something into your urinary tract, you really want to be expert at it. Attempting to scrape out a blockage in his urinary tract, Morris proved that it's not just doctors that killed people, back in the day, but do-it-yourselfers as well.
5. Charles II of Navarre
This is a particularly gruesome death, and so it's fortunate that Charles' nickname was "Charles The Bad." He did the usual things, like hiring mercenaries to slaughter people for him and killing those mercenaries rather than paying them. He also had a habit of inviting people over for peace talks and then having them tortured and beheaded. Then there was the more twisted stuff, like taking under his wing the son of a political rival. The boy had come to Charles at a time when the boy's parents were feuding. Charles gave him a love potion to get his parents back together. It turned out to be a poison.
So it was a real relief for everyone when Charles fell ill. Nobody knows exactly what the illness was, but Charles' doctors agreed that the cure was to soak bandages in brandy and swaddle Charles in them. That didn't do him any harm - until a servant accidentally set fire to the bandages. Perhaps the doctors made a mistake, or perhaps they assumed that Charles would murder them rather than pay their fee. From a modern perspective its hard to determine whether this was a case of bad medicine or a case of expert assassination.
4. Napoleon
Napoleon was another likely victim of doctors. At the time, it seemed he died from the stomach cancer that had killed his father. Hundreds of years later, scientists tested one of his hairs, and found that he'd been exposed to a massive amount of arsenic. (There are multiple theories on how the arsenic got in his system. Some historians believe that he was deliberately poisoned. Others point out that arsenic was used to fix the green color of the wallpaper in the room where he lived - making him possibly the only dictator killed by an interior decorator.)