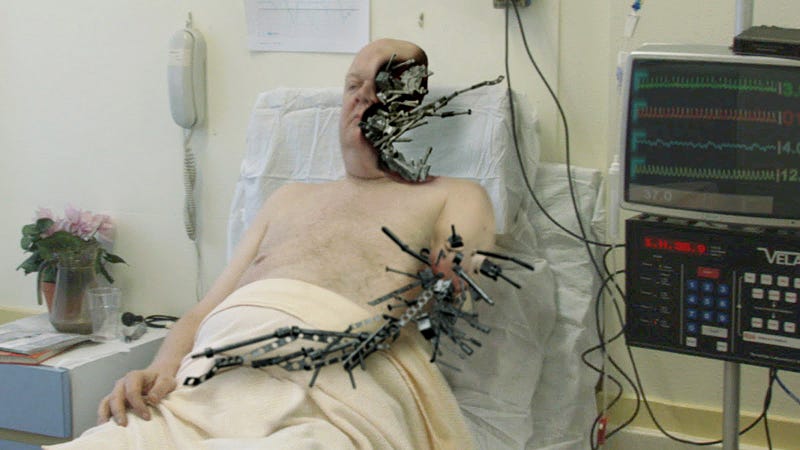 Today, humans suffer from a wide range of diseases and disorders that didn't exist in the past, a trend that will likely continue well into the future. Here are 10 unexpected and wholly unpleasant diseases we'll eventually have to contend with.
Top image: A scene from Floris Kaayk's Metalosis Maligna, a short film featuring a fictional disease which causes cybernetic implants to replicate uncontrollably.
It's impossible to know which pathogens will afflict us in the future, but by looking at technological and social trends, we can make some educated guesses about the kinds of diseases and disorders that are likely to emerge.
Consider this your speculation warning. We're about to journey out of what we do know, into the realm of what might happen.
Deliberate acts of bioterrorism and biohacking will introduce entirely new and unexpected problems, such as the deliberate dissemination of bioengineered viruses or brain hacking. But for the purposes of this list, I've chosen to exclude those possibilities. I'll set those aside for a future io9 superlist. This post will only consider health issues that are likely to emerge as a consequence of our technological advancements and our inability to cope with them.
1. Virtual Reality Addiction
Remember that episode of ST-TNG when Lieutenant Reginald Barclay became hopelessly obsessed with the Holodeck? Given how much better his make-believe world was compared to his drab life, you can't really blame him. Indeed, virtual reality will introduce us to environments and settings far more compelling — and far more controllable than real life.
Once fully immersive VR becomes available, it'll become increasingly difficult for people to engage with reality. What's more, because VR will offer the opportunity for people to physically interface with their friends and colleagues across vast distances, and with a dizzying array of technological features at their disposal, it'll become increasingly difficult and inconvenient to detach. Consequently, virtual reality withdrawal will become a common and serious problem. We're already seeing the signs of this today in the form of so-called Internet Addiction Disorder (IAD) and Internet Gaming Disorder (IGD). Relatedly, psychologists have already had to treat a person for IAD caused by overuse of Google Glass.