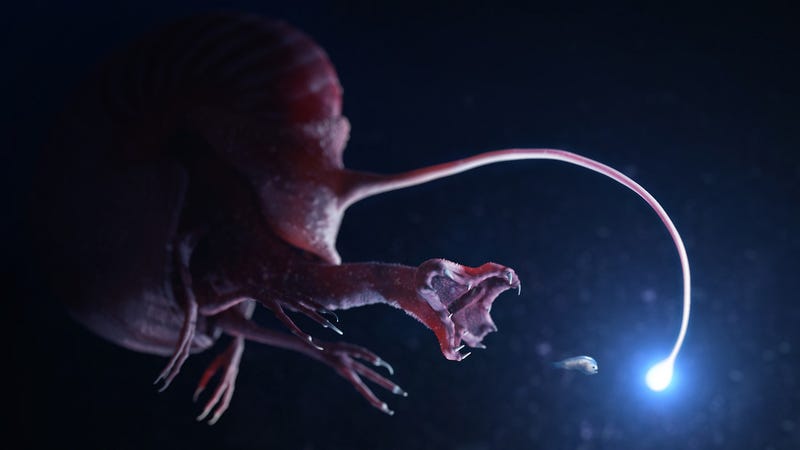 There are a number of massively talented illustrators, concept designers, and visual effects artists who work to bring other people's projects to life. But many of them have incredible ideas of their own—ideas that we'd love to see as movies, video games, or television shows.
Top image by Anthony Sieben.
There are concept artists whose visual point of view is firmly felt in the movies that they have worked on, such as Ralph McQuarrie with Star Wars and HR Giger with Alien. And there are concept artists working in Hollywood who direct and art direct films of their own, whether shorts or features. Here are a handful of artists whose work in illustration, print, and games have caught our eyes, and whom we'd love to see translate their visual perspective into a feature film.
Obviously, this list is by no means comprehensive; this is a very small sample of artists who happen to have repeatedly caught our eye. There are tons of amazing artists working in print, games, animation, film, and a host of other areas who have amazing worlds and amazing films running through their heads. Post your favorite contenders in the comments.
Sergi Brosa
Barcelona-based Sergi Brosa is a freelance illustrator, character designer, and concept artist, and his vibrantly colored illustrations show a careful attention to fashion, architecture, and technology. His images often feature machines that are at once bespoke and futuristic, and the details invite us to imagine the world they inhabit—which is why his images show up so frequently in our Concept Art Writing Prompts.
Robert Chew
Concept development artist Robert Chew has been wowing us with his series of illustrations featuring robotic animals, especially his Big Five series, which imagines a future in which anti-poaching operatives are aided by mechanical rhinos, lions, and vultures (although the poachers have some robotic tools of their own). Chew is looking to turn the series into a book to benefit the International Anti-Poaching Foundation, but we'd love to see a movie.
Simon Stålenhag
Sweden-based artist Simon Stålenhag also has a rather intriguing illustration series that would make for a striking movie setting. His retrofuturistic illustrations imagine great machines coexisting with a Sweden of decades ago. Often, these machines appear to be decaying, and sometimes they are joined by a passing dinosaur.
Dave Melvin
Dave Melvin is a concept artist and instructor at the Academy of Art University, and he has some particularly striking creature designs. Although some of his creatures feel purely fantastical, others seem pulled from a future where biological technology has advanced to create new organic beings.
Claire Hummel
Claire Hummel is a concept artist who has rightfully been getting a lot of attention for her work on Bioshock: Infinite, and we've swooned over her historical Disney princess series. She's an artist that I highly recommend following on Twitter, not just for her artwork, but for her writings on historical clothing. She recently posted a huge list of resources for folks interested in historical costuming, and she has posted some great rants on the use of things like corsets as outside garments. Much of the artwork Hummel posts online is fanart and her professional concept design work, but it would be lovely to see an original historical fantasy using Hummel's close attention to detail.